CCNA 200-301 Portable Command Guide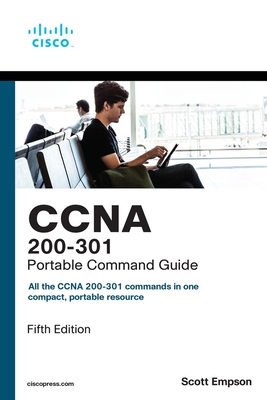 Huge savings for students
Each student receives a 50% discount off of most books in the HSG Book Store. During class, please ask the instructor about purchase details.
| | |
| --- | --- |
| List Price: | $39.99 |
| Price: | $20.00 |
| You Save: | $20.00 |
6
CCNA 200-301 Portable Command Guide
is filled with valuable, easy-to-access information-and it's portable enough to use whether you're in the server room or the equipment closet. The guide summarizes all CCNA certification-level Cisco IOS Software commands, keywords, command arguments, and associated prompts, providing you with tips and examples of how to apply the commands to real-world scenarios. Throughout, configuration examples give you a better understanding of how these commands are used in simple network designs.
This book has been completely updated to cover topics in the new 200-301 exam. Use this quick reference resource to help you memorize commands and concepts as you work to pass the CCNA certification exam. Coverage includes
Network Fundamentals: IPv4 addressing, subnetting, VLSM, route summarization, IPv6 addressing, cables/connections, CLI
LAN Switching Technologies: Switch configuration, VLANs, VLAN trunking protocol, inter-VLAN communication, STP, EtherChannel, CDP, LLDP
Routing Technologies: Router configuration, static routing, OSPF
IP Services: DHCP, NAT, NTP
Security Fundamentals: Layer 2 security, ACL traffic management, device monitoring and hardening
Wireless Technologies: Configuring and securing a WLAN AP

Includes quick access to all CCNA commands for research and solutions.
Logical how-to topic groupings for a one-stop resource
Great for review before CCNA certification exams
Compact size makes it easy to carry with you wherever you go
"Create Your Own Journal" section with blank, lined pages enables you to personalize the book for your needs

This book is part of the Cisco Press Certification Self-Study Product Family, which offers readers a self-paced study routine for Cisco certification exams. Titles in the Cisco Press Certification Self-Study Product Family are part of a recommended learning program from Cisco that includes simulation and hands-on training from authorized Cisco Learning Partners and self-study products from Cisco Press.