Mastering Ui Mockups and Frameworks: A Beginner's Guide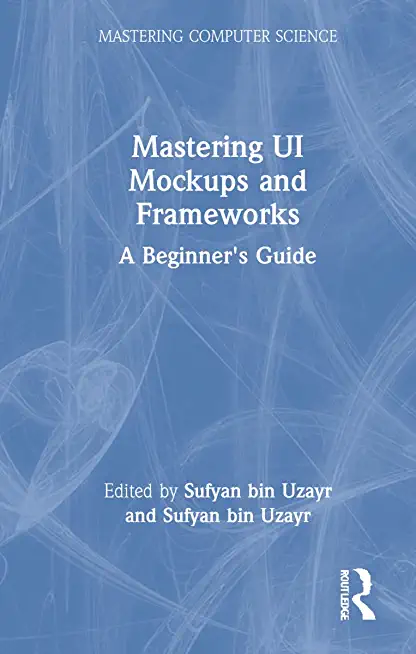 Huge savings for students
Each student receives a 50% discount off of most books in the HSG Book Store. During class, please ask the instructor about purchase details.
| | |
| --- | --- |
| List Price: | $29.95 |
| Price: | $14.98 |
| You Save: | $14.98 |
5
Mastering UI Mockups and Frameworks: A Beginner's Guide sets the standard for studying wireframes, mockups, and different tools along with their unique features. This book comprehensively analyzes the design, portability, and efficiency of these tools. As a beginner's guide, Mastering UI Mockups and Frameworks addresses various methods to use these types of tools. This book will help you shape your understanding of UI and UX tools regardless of your skill level.
Wireframes and mockups are standard tools used during the design process. A mockup is a visual presentation of a website or an app. Designers always use mockups to highlight their website's layout and functionality to their prospective clients. Choosing a particular tool at the right stage will help you ensure that the correct level of effort is invested so that you can deliver functionality that solves an actual customer requirement. Mastering UI Mockups and Frameworks helps you accomplish this!
This book explores the design, compactness, and performance of different UX/UI tools by completing various comparative discussions. Mastering UI Mockups and Frameworks has an abundant supply of tested, functional, and documented Wireframe and mockup tools by providing comprehensive, practical, easy-to-grab solutions and paying close attention to both efficiency and portability. This book also discusses the latest updates added to the UX/UI tools. Furthermore, Mastering UI Mockups and Frameworks offers information for students and professionals interested in knowing more about such tools and their outstanding efficacies.
While wireframes and prototypes are low-fidelity formats, mockups are more intuitive. They help clients visualize how the final product will look, feel, and work. Mockups also help remove ambiguity regarding the client's expectations. Clients can detect gaps on the website by looking at its mockup and suggesting early product revisions. By using mockups for each iteration, designers can create a final product that meets client requirements.
Wireframing is an unavoidable part of the design process. You will have a lot of ideas to brainstorm while working on a mobile app or website project. The Wireframing brainstorm sessions' main purpose is to make them with minimal effort and to facilitate creativity. Whether or not you are a designer, wireframing is a necessary skill to have in your toolkit. It is conducive for marketers, product managers, or any person with ideas for a mobile app or website. It is an irreplaceable tool for visualizing user experiences, iterating ideas, and sharing ideas. It undoubtedly performs like a design blueprint. Wireframes stipulate a path for conceptual structuring out an application, whether structurally or visually.
Mastering UI Mockups and Frameworks provides you with the uniqueness of two irreplaceable parts of the designing world: mockups and wireframes. This book covers different mockup and wireframe tools, including Adobe XD, Mockplus, Moqups, Mockplus iDOC, Sketch Figma, UXpin, and Axure RP, as well as their functionality and portability. Using some of these mockup tools, you can create interactive mockups that can be exported and run on any device working as a real application. This is a robust way to test your knowledge about your apps. It will also help with detailed instructions for developers, making their job easier and faster.
If you are looking to get started with the world of UI and UX, Mastering UI Mockups and Frameworks is the book to read!
Learn more about our other Mastering titles at:
https: //www.routledge.com/Mastering-Computer-Science/book-series/MCS