Comptia A+ Complete Practice Tests: Core 1 Exam 220-1101 and Core 2 Exam 220-1102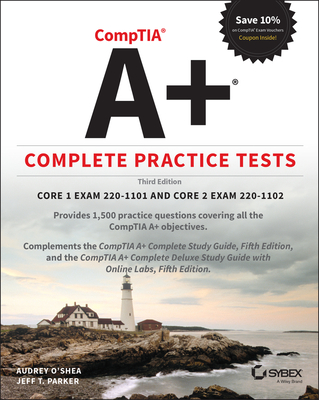 Huge savings for students
Each student receives a 50% discount off of most books in the HSG Book Store. During class, please ask the instructor about purchase details.
| | |
| --- | --- |
| List Price: | $40.00 |
| Price: | $20.00 |
| You Save: | $20.00 |
6
Improve your understanding of all Core 1 and Core 2 A+ exam objectives and prepare for a new career as a computer technician
The Third Edition of the CompTIA A+ Complete Practice Tests: Core 1 Exam 220-1101 and Core 2 Exam 220-1102 offers aspiring and practicing computer technicians essential and practical exam prep material for the industry favorite A+ certification. The hundreds of domain-by-domain practice questions cover all of the A+ exam objectives tested on the Core 1 and Core 2 exams, helping you prepare for success on the tests and in the real world.
Just like the real exams, the practice questions contained within this resource cover mobile devices, networking, hardware, virtualization and cloud computing, hardware and network troubleshooting, operating systems, security, software troubleshooting, and operational procedures. These rigorous and realistic practice questions will get you ready for your first role as a computer technician and let you hit the ground running. This comprehensive set includes:
Challenging questions designed to advance your understanding and comprehension of all covered exam domains
Questions similar to those found on the real Core 1 and Core 2 A+ exams
Access to the Sybex online test bank, with hundreds of questions and full-length practice exams
Perfect for anyone prepping for the Core 1 and Core 2 A+ exams, CompTIA A+ Complete Practice Tests: Core 1 Exam 220-1101 and Core 2 Exam 220-1102 is also an ideal resource for aspiring and early-career computer technicians who want to improve their understanding of some of the foundational concepts they rely on each day in the field.