Analogia: The Emergence of Technology Beyond Programmable Control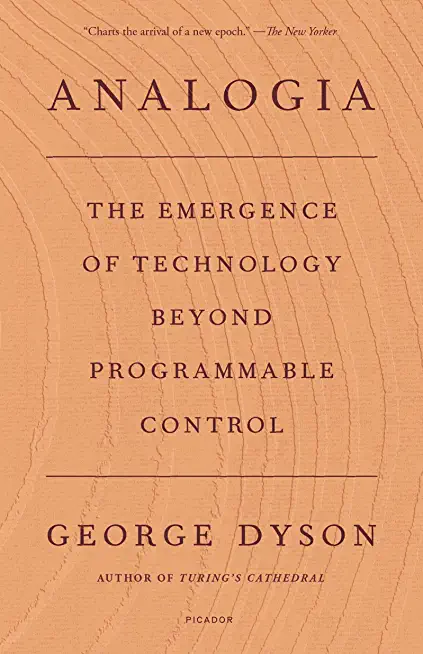 Huge savings for students
Each student receives a 50% discount off of most books in the HSG Book Store. During class, please ask the instructor about purchase details.
| | |
| --- | --- |
| List Price: | $18.00 |
| Price: | $9.00 |
| You Save: | $9.00 |
0
Named one of WIRED's The Best Pop Culture That Got Us Through 2020
In
Analogia
, technology historian George Dyson presents a startling look back at the analog age and life before the digital revolution--and an unsettling vision of what comes next. In 1716, the philosopher and mathematician Gottfried Wilhelm Leibniz spent eight days taking the cure with Peter the Great at Bad Pyrmont in Saxony, trying to persuade the tsar to launch a voyage of discovery from Russia to America and to adopt digital computing as the foundation for a remaking of life on earth. In two classic books,
Darwin Among the Machines
and
Turing's Cathedral
, George Dyson chronicled the realization of the second of Leibniz's visions. In
Analogia
, his pathbreaking new book, he brings the story full circle, starting with the Russian American expedition of 1741 and ending with the beyond-digital revolution that will complete
the transformation of the world. Dyson enlists a startling cast of characters, from the time of Catherine the Great to the age of machine intelligence, and draws heavily on his own experiences at the Institute for Advanced Study in Princeton, New Jersey, and onward to the rain forest of the Northwest Coast. We are, Dyson reveals, entering a new epoch in human history, one driven by a generation of machines whose powers are no longer under programmable control.
Includes black-and-white illustrations