Apple Watch for Seniors for Dummies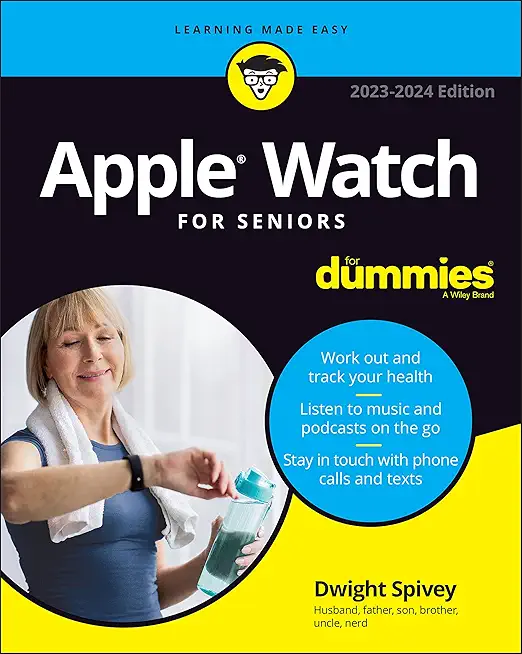 Huge savings for students
Each student receives a 50% discount off of most books in the HSG Book Store. During class, please ask the instructor about purchase details.
| | |
| --- | --- |
| List Price: | $29.99 |
| Price: | $15.00 |
| You Save: | $15.00 |
0
All the info you want about Apple Watch, and none of the fluff you don't
Apple Watch For Seniors For Dummies helps you get the most out of your smart device. Start with the very basics if you're an Apple Watch newbie, or, if you're upgrading, check out the no-nonsense coverage of the latest bells and whistles. The upgraded Sleep app, Afib monitoring that you can share with your doctor, the new Medications app for logging prescriptions, and, of course, all the texting, weather, and fitness features Apple users love. This book is packed with all the information you need to get up to speed on the latest versions of the Apple Watch and watchOS 9. For users in the 60+ crowd, this For Seniors guide uses a larger font for text and a larger size for figures to make the book as easy to read as possible. You'll also find Tips, Warnings, and Notes to help you stay safe while you make the most out of your watch and avoid common mistakes. Yep, it's a computer for your wrist. Let this friendly guide show you all it can do.
Take a simple, step-by-step approach to getting started with Apple Watch
Select the right watch model for your needs and link it to your iPhone or Mac
Send text messages, receive calls, and keep track of your health--from your wrist
Learn the ins and outs of the latest models for 2023-2024
Interested in keeping up with the latest technology trends? Get on board the Apple Watch train, thanks to this handy resource.