How To Build a Website With WordPress...Fast! (3rd Edition - Read2Learn Guides)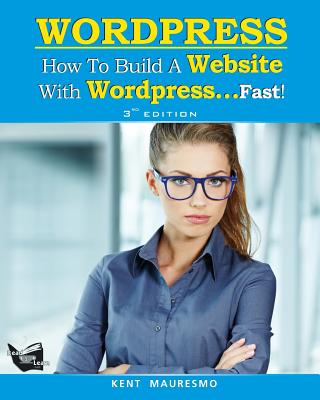 Huge savings for students
Each student receives a 50% discount off of most books in the HSG Book Store. During class, please ask the instructor about purchase details.
| | |
| --- | --- |
| List Price: | $5.97 |
| Price: | $2.98 |
| You Save: | $2.98 |
4-How To Build a Website With WordPress...Fast! [3rd Edition] "Easily Build a Professional Website In 30 Minutes Using Our Simple Step-By-Step Guide" Do you need a simple training guide? This guide is simple.
Are you short on time? This book is fast paced and easy to read!
Do you learn better with pictures? This book is FULL of pictures.
Invest a few tax-deductible dollars in this easy-to-read eBook now! You need help with WordPress, and you need an easy step-by-step guide. This updated book will help you build a website faster than ever! We'll teach you how to use WordPress to create beautiful money making websites that will boost your business fast! Once you know the secrets, you'll laugh at how easy this is. This book is filled with screenshot images showing you exactly how we run the administration area of our website. We'll Show You: How to pick the best domain names.
How to pick the best hosting package. (#1 Source Recommended per WordPress.org)
How to pick and install and customize the newest Wordpress Plugins.(Updated)
Where to get amazing Wordpress Themes.(New Resources)
How to easily customize your pages and create submenus. (Updated)
How to customize your sidebar.
How and where to get custom Facebook and Twitter widgets for your website.
How to effectively set up the recommended plugins. (Updated)
How to write effective blog post/articles.
How to upload pictures. (Updated)
How to easily embed videos from YouTube.(Updated)
How to get blog comments. (Updated)
How to manage blog comments. (Updated)
How to get found on the FIRST PAGE OF GOOGLE! (New strategies) We'll Also Give You Simple Resources So You Can: Sell products online.(New Resources)
Create an email list.
Create squeeze pages to capture names and emails.
Create membership websites. (Updated FREE Resource!)
Create videos and slide shows for your website...plus a lot more.
This book is designed for complete beginners! You will save countless hours and frustration by purchasing this book. Follow this step-by-step guide, and you'll have a professional website LIVE and ready within 30 minutes. If you're new to using WordPress, this is the only book you need. Scroll up and purchase this book now to get started right now! Email me along the way if you need help. -Kent Mauresmo P.S. This Kindle eBook includes a link to download the PDF version for FREE.
P.P.S. This Kindle book also includes a link to download our Web Hosting Guide for FREE. (limited) Page Count: 120 Pages (Word Doc/PDF Doc)
Word Count: 18,581
Image Count: Over 130 images to help you along the way.

Createspace Independent Publishing Platform