Seniors Guide to iPhone: 2021 Edition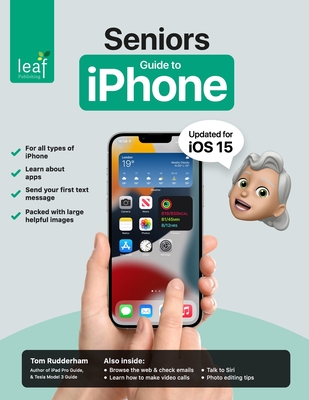 Huge savings for students
Each student receives a 50% discount off of most books in the HSG Book Store. During class, please ask the instructor about purchase details.
| | |
| --- | --- |
| List Price: | $14.98 |
| Price: | $7.49 |
| You Save: | $7.49 |
8Fully updated for iOS 15!
The iPhone is one of the most useful pieces of technology you can buy. Not only can it make phone calls for you, but it can also browse the web, video call friends and family, and even take measurements of everyday objects around your home.
This brand new book for 2021 is all about making sense of the iPhone, even if you've never used one before. You'll learn about the very basics, how the built-in apps work, and how you can use an iPhone to enrich and improve your life. Large images and step-by-step guides throughout make it easy to learn.
Inside you'll discover:
- All the basics covered, including buttons, gestures, and typing
- How to find and install apps
- Step-by-step tutorials for browsing the internet
- Instructions for setting up accounts and checking emails
- How to make video calls to loved ones
- The secrets of iPhone photography
- How to configure Settings & much more!