Java Programming Training Classes in Indianapolis, Indiana
Training Suggestions from an Expert

An Experienced Java developer must know
... everything or so it can seem. A solid grasp and knowledge of Object Oriented Programming constructs such as inheritance, polymorphism, interfaces and reflection are essential. Next in line is the knowldge to be able to import/export file data, running SQL queries, using regular expressions and, possibly, knowing how to write multi-threaded code and make socket connections. A class that addresses most of these topics is: Fast Track to Java 11 and OO Development.
For the more daring Java enthusiast and especially for those looking to become professional Java developers, knowledge of the Spring Framework is expected. A perfect class for this is: Fast Track to Spring Framework and Spring MVC/Rest. Not only does this course provide students with a great introduction to spring, it goes beyond the basics with a solid delve into Spring and web development.
Another consideration is learning JBoss aka Wildfly, the free Application Server from RedHat. JBoss has become the workhorse of most Java EE applications. Add to that a class on Tomcat, the defacto servlet engine, and the student can be considered 'ready' for employment.
Call for Details: 303.377.6176
Learn Java Programming in Indianapolis, Indiana and surrounding areas via our hands-on, expert led courses. All of our classes either are offered on an onsite, online or public instructor led basis. Here is a list of our current Java Programming related training offerings in Indianapolis, Indiana: Java Programming Training
Indianapolis Upcoming Instructor Led Online and Public Java Programming Training Classes
Course Directory
[training on all levels]
Technical Training Courses
Software engineer/architect, System Admin ... Welcome!
Business Training Courses
Project Managers, Business Analysts, Paralegals ... Welcome!
Upcoming Classes
Gain insight and ideas from students with different perspectives and experiences.
Blog Entries
publications that: entertain, make you think, offer insight
I've been a technical recruiter for several years, let's just say a long time. I'll never forget how my first deal went bad and the lesson I learned from that experience. I was new to recruiting but had been a very good sales person in my previous position. I was about to place my first contractor on an assignment. I thought everything was fine. I nurtured and guided my candidate through the interview process with constant communication throughout. The candidate was very responsive throughout the process. From my initial contact with him, to the phone interview all went well and now he was completing his onsite interview with the hiring manager.
Shortly thereafter, I received the call from the hiring manager that my candidate was the chosen one for the contract position, I was thrilled. All my hard work had paid off. I was going to be a success at this new game! The entire office was thrilled for me, including my co-workers and my bosses. I made a good win-win deal. It was good pay for my candidate and a good margin for my recruiting firm. Everyone was happy.
I left a voicemail message for my candidate so I could deliver the good news. He had agreed to call me immediately after the interview so I could get his assessment of how well it went. Although, I heard from the hiring manager, there was no word from him. While waiting for his call back, I received a call from a Mercedes dealership to verify his employment for a car he was trying to lease. Technically he wasn't working for us as he had not signed the contract yet…. nor, had he discussed this topic with me. I told the Mercedes office that I would get back to them. Still not having heard back from the candidate, I left him another message and mentioned the call I just received. Eventually he called back. He wanted more money.
I told him that would be impossible as he and I had previously agreed on his hourly rate and it was fine with him. I asked him what had changed since that agreement. He said he made had made much more money in doing the same thing when he lived in California. I reminded him this is a less costly marketplace than where he was living in California. I told him if he signed the deal I would be able to call the car dealership back and confirm that he was employed with us. He agreed to sign the deal.
Information Technology is one of the most dynamic industries with new technologies surfacing frequently. In such a scenario, it can get intimidating for information technology professionals at all levels to keep abreast of the latest technology innovations worth investing time and resources into.
It can therefore get daunting for entry and mid-level IT professionals to decide which technologies they should potentially be developing skills. However, the biggest challenge comes for senior information technology professionals responsible for driving the IT strategy in their organizations.
It is therefore important to keep abreast of the latest technology trends and get them from reputable sources. Here are some of the ways to keep on top of the latest trends in Information Technology.
· Subscribe to leading Analyst Firms: If you work for a leading IT organization, chances are that you already have subscription to leading IT analyst firms notably Gartner and Forrester. These two firms are some of the most recognized analyst firms with extensive coverage on almost every enterprise technology including hardware and software. These Analyst firms frequently publish reports on global IT spending and trends that are based on primary research conducted on vendors and global CIOs & CTOs. However, subscription to these reports is very expensive and if you are a part of a small organization you may have issues securing access to these reports. One of the most important pieces of research published by these firms happens to be the Gartner Hype Cycle which plots leading technologies and their maturity curve.Even if you do not have access to Gartner research, you can hack your way by searching for "Gartner Hype Cycle" on Google Images and you will in most cases be able to see the plots similar to the one below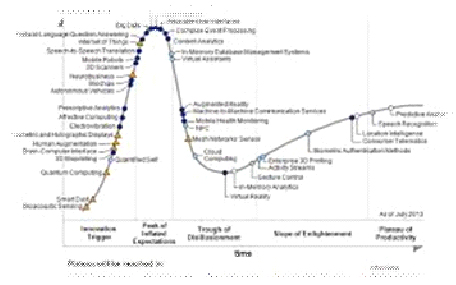 Welcome to the career field of Business Intelligence. Business Intelligence is a concept that involves a certain level of interaction within an organism, analytically and dynamically, to come to business solutions which implement better, more effective and timely decision making. These solutions are reached by establishing an understanding of the right kinds of user data: what is going well, what is going wrong, taking and monitoring certain actions, previously unknown trends, and patterns, and improved collaboration. When all of this data is taken into account, the entire decision-making process, within a business, will inevitably improve. As an Oracle BI developer, there are specific skills which will drastically make your job easier and results more effective. As time goes on and technology changes, the list is constantly being updated. The following are skills an Oracle Business Intelligence Developer might need to know or learn in 2019.
Communication
What are the three most important things non-programmers should know about programming?

Written by Brian Knapp, credit and reprint CodeCareerGenius
Since you asked for the three most important things that non-programmers should know about, and I've spent most of my career working with more non-programmers than programmers, I have a few interesting things that would help.
Number One - It Is Impossible To Accurately Estimate Software Projects
No matter what is tried. No matter what tool, agile approach, or magic fairy dust people try to apply to creating software… accurately predicting software project timelines is basically impossible.
There are many good reasons for this. Usually, requirements and feature ideas change on a daily/weekly basis. Often it is impossible to know what needs to be done without actually digging into the code itself. Debugging and QA can take an extraordinary amount of time.
And worst of all…
Project Managers are always pushing for shorter timelines. They largely have no respect for reality. So, at some point they are given estimates just to make them feel better about planning.
No matter how much planning and estimation you do, it will be wrong. At best it will be directionally correct +/- 300% of what you estimated. So, a one year project could actually take anywhere between 0 and 5 years, maybe even 10 years.
If you think I'm joking, look at how many major ERP projects that go over time and over budget by many years and many hundreds of millions of dollars. Look at the F-35 fighter jet software issues.
Or in the small, you can find many cases where a "simple bug fix" can take days when you thought it was hours.
All estimates are lies made up to make everyone feel better. I've never met a developer or manager who could accurately estimate software projects even as well as the local weatherman(or woman) predicts the weather.
Number Two - Productivity Is Unevenly Distributed
What if I told you that in the average eight hour work day the majority of the work will get done in a 30 minute timeframe? Sound crazy?
Well, for most programmers there is a 30–90 minute window where you are extraordinarily productive. We call this the flow state.
Being in the flow state is wonderful and amazing. It often is where the "magic" of building software happens.
Getting into flow can be difficult. It's akin to meditation in that you have to have a period of uninterrupted focus of say 30 minutes to "get in" the flow, but a tiny interruption can pull you right out.
Now consider the modern workplace environment. Programmers work in open office environments where they are invited to distract each other constantly.
Most people need a 1–2 hour uninterrupted block to get 30–90 minutes of flow.
Take the 8 hour day and break it in half with a lunch break, and then pile in a few meetings and all of a sudden you are lucky to get one decent flow state session in place.
That is why I say that most of the work that gets done happens in a 30 minute timeframe. The other 7–8 hours are spent being distracted, answering email, going to meetings, hanging around the water cooler, going to the bathroom, and trying to remember what you were working on before all these distractions.
Ironically, writers, musicians, and other creative professionals have their own version of this problem and largely work alone and away from other people when they are creating new things.
Someday the programming world might catch on, but I doubt it.
Even if this became obvious, it doesn't sit well with most companies to think that programmers would be paid for an 8 hour day and only be cranking out code for a few hours on a good day. Some corporate middle manager would probably get the bright idea to have mandatory flow state training where a guru came in and then there would be a corporate policy from a pointy haired boss mandating that programmers are now required to spend 8 hours a day in flow state and they must fill out forms to track their time and notify their superiors of their flow state activities, otherwise there would be more meetings about the current flow state reports not being filed correctly and that programmers were spending too much time "zoning out" instead of being in flow.
Thus, programmers would spent 7–8 hours a day pretending to be in flow state, reporting on their progress, and getting all their work done in 30 minutes of accidental flow state somewhere in the middle of all that flow state reporting.
If you think I'm joking about this, I'm not. I promise you this is what would happen to any company of more than 2 employees. (Even the ones run by programmers.)
Number Three - It Will Cost 10x What You Think
Being a programmer, I get a lot of non-programmers telling me about their brilliant app ideas. Usually they want me to build something for free and are so generous as to pay me up to 5% of the profits for doing 100% of the work.
Their ideas are just that good.
Now, I gently tell them that I'm not interested in building anything for free.
At that point they get angry, but a few ask how much it will cost. I give them a reasonable (and very incorrect) estimate of what it would cost to create the incredibly simple version of their app idea.
Let's say it's some number like $25,000.
They look at me like I'm a lunatic, and so I explain how much it costs to hire a contract programmer and how long it will actually take. For example's sake let's say it is $100/hr for 250 hours.
To be clear, these are made up numbers and bad estimates (See Number One for details…)
In actuality, to build the actual thing they want might cost $250,000, or even $2,500,000 when it's all said and done.
Building software can be incredibly complex and expensive. What most people can't wrap their head around is the fact that a company like Google, Apple, or Microsoft has spent BILLIONS of dollars to create something that looks so simple to the end user.
Somehow, the assumption is that something that looks simple is cheap and fast to build.
Building something simple and easy for the end user is time consuming and expensive. Most people just can't do it.
So, the average person with a brilliant app idea thinks it will cost a few hundred or maybe a few thousand dollars to make and it will be done in a weekend is so off the mark it's not worth considering their ideas.
And programmers are too eager to play along with these bad ideas (by making bad estimates and under charging for their time) that this notion is perpetuated to the average non-programmer.
So, a good rule of thumb is that software will cost 10 times as much as you think and take 10 times as long to finish.
And that leads to a bonus point…
BONUS - Software Is Never Done
Programmers never complete a software project, they only stop working on it. Software is never done.
I've worked at many software companies and I've never seen a software project "completed".
Sure, software gets released and used. But, it is always changing, being updated, bugs get fixed, and there are always new customer requests for features.
Look at your favorite software and you'll quickly realize how true this is. Facebook, Instagram, Google Search, Google Maps, GMail, iOS, Android, Windows, and now even most video games are never done.
There are small armies of developers just trying to keep all the software you use every day stable and bug free. Add on the fact that there are always feature requests, small changes, and new platforms to deal with, it's a treadmill.
So, the only way out of the game is to stop working on software. At that point, the software begins to decay until it is no longer secure or supported.
Think about old Windows 3.1 software or maybe old Nintendo Cartridge video games. The current computers and video game consoles don't even attempt to run that software anymore.
You can't put an old video game in your new Nintendo Switch and have it "just work". That is what happens when you think software is done.
When programmers stop working on software the software starts to die. The code itself is probably fine, but all the other software keeps moving forward until your software is no longer compatible with the current technology.
So, those are the four most important things that non-programmers should know about programming. I know you asked for only three, so I hope the bonus was valuable to you as well.
Tech Life in Indiana
Some fun facts about Indiana: The first professional baseball game was played in Fort Wayne on May 4, 1871; The Indiana Gazette Indiana's first newspaper was published in Vincennes in 1804; A great deal of the building limestone used in the U.S. is quarried in Indiana. As for the tech life in Indiana, there are growing opportunities within the state in some of the major corporations such as WellPoint, Biomet, and Zimmer Holdings (just to name a few)
Learning is like rowing upstream:  not to advance is to drop back.  ~Chinese Proverb
other Learning Options
Software developers near Indianapolis have ample opportunities to meet like minded techie individuals, collaborate and expend their career choices by participating in Meet-Up Groups. The following is a list of Technology Groups in the area.
training details
locations, tags and why hsg
the hartmann software group advantage
A successful career as a software developer or other IT professional requires a solid understanding of software development processes, design patterns, enterprise application architectures, web services, security, networking and much more. The progression from novice to expert can be a daunting endeavor; this is especially true when traversing the learning curve without expert guidance. A common experience is that too much time and money is wasted on a career plan or application due to misinformation.
The Hartmann Software Group understands these issues and addresses them and others during any training engagement. Although no IT educational institution can guarantee career or application development success, HSG can get you closer to your goals at a far faster rate than self paced learning and, arguably, than the competition. Here are the reasons why we are so successful at teaching:
Learn from the experts.

We have provided software development and other IT related training to many major corporations in Indiana since 2002.
Our educators have years of consulting and training experience; moreover, we require each trainer to have cross-discipline expertise i.e. be Java and .NET experts so that you get a broad understanding of how

industry wide

experts work and think.

Discover tips and tricks about Java Programming programming
Get your questions answered by easy to follow, organized Java Programming experts
Get up to speed with vital Java Programming programming tools
Save on travel expenses by learning right from your desk or home office. Enroll in an online instructor led class. Nearly all of our classes are offered in this way.
Prepare to hit the ground running for a new job or a new position
See the big picture and have the instructor fill in the gaps
We teach with sophisticated learning tools and provide excellent supporting course material
Books and course material are provided in advance
Get a book of your choice from the HSG Store as a gift from us when you register for a class
Gain a lot of practical skills in a short amount of time
We teach what we know…software
We care…
learn more
page tags
what brought you to visit us
Indianapolis, Indiana Java Programming Training , Indianapolis, Indiana Java Programming Training
Classes
, Indianapolis, Indiana Java Programming Training
Courses
, Indianapolis, Indiana Java Programming Training
Course
, Indianapolis, Indiana Java Programming Training
Seminar
training locations
Indiana cities where we offer Java Programming Training Classes