Microsoft SQL Server Training Classes in Temple, Texas
Learn Microsoft SQL Server in Temple, Texas and surrounding areas via our hands-on, expert led courses. All of our classes either are offered on an onsite, online or public instructor led basis. Here is a list of our current Microsoft SQL Server related training offerings in Temple, Texas: Microsoft SQL Server Training
Microsoft SQL Server Training Catalog
Course Directory
[training on all levels]
Technical Training Courses
Software engineer/architect, System Admin ... Welcome!
Business Training Courses
Project Managers, Business Analysts, Paralegals ... Welcome!
Upcoming Classes
Gain insight and ideas from students with different perspectives and experiences.
Blog Entries
publications that: entertain, make you think, offer insight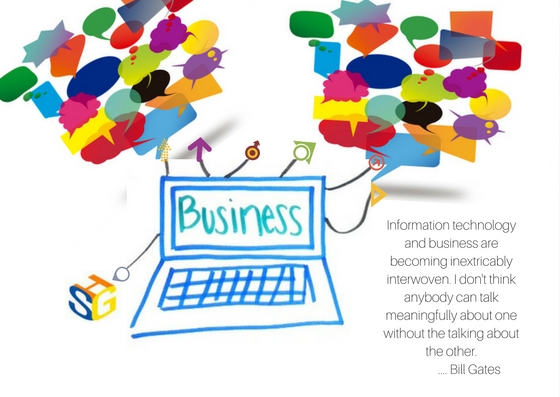 Information Technology (IT) tools are here to support your business in the global market. Effective communication is key for IT and business experts to collaborate effectively in search of solutions. Consulting, reaching out for help to a third-party, can bridge the gap between your business marketing experts and IT operations experts, especially with the emergence of big data analytics and its implication on the global market. Having the right consultants equipped with business knowledge and data technology expertise can make a difference.

Your marketing organization is probably familiar with digital tools and conducting global research. Its results can uncover the journey customers take to purchase your products or use your services. It can highlight the pain points and frictions that prevent their experiences with you to be delightful and amazing. Armed with this knowledge and beautiful compelling presentations, marketing executives expect that IT operations leaders will translate these insights into actions.

But people in IT operations are too involved in meeting key performance indicators that have nothing to do with the end customers. Meeting requirements of faster and cheaper don't translate very well into customer satisfaction. A classic breakdown in communication is described in a Harvard Business Review article, "A Technique to Bridge the Gap Between Marketing and IT." The author goes on to describe how a new CIO at a bank found IT to be focused on the internal organization as their customers, rather than the real end customer. Moreover, no one was looking at the incident reports which clearly showed that incidents were increasing. And nobody looked at what these incidents were doing to the bank's customers. The startling and scary numbers of incidents were caught and addressed and brought down from 1,000 to 600 or (40%) and later to 450 per week.
Surprisingly, these type of seemingly isolated scenarios are still being discovered within organizations presently, sometimes internally, and through third party insights such as consultants. By engaging consultants to provide a perspective based on what they've experienced before, they can often bring new and innovative ideas or possible challenges to the table that an internal processes probably wouldn't have been able to see on their own. Often, third party input can help to provide the translation needed to go from marketing research results into actions that IT operations can understand and make sense in their high-performance culture. When companies understand and use this knowledge to reassess how to improve their customer experiences, they work backward from what customers want to achieve significantly higher improvements.

IT and business management are more and more being asked to move away from their traditional roles, such as IT being the "technology infrastructure gatekeeper", and instead become enablers across the enterprise of effective collaboration, big data consumers, and key players in driving desired business outcomes. Marketing leaders look to technology as a way to facilitate the customer's journey and his positive experience of it, bring more clients, and meet increasingly higher loyalty goals. They rely on IT projects to enable big data-based behavioral targeting anywhere in the global market. This means projects to analyze search engine results, improve website personalization and optimization, and building of mobile applications for a more personal experience. All these are projects that consultants with their communication, consulting and technical expertise are well prepared to help in order to bridge the expectation gap between IT and other business organizations.

In order to meet these 21st-century business challenges, Information Technology organizations have been transitioning from waterfall stage-gate project management approaches to agile development. The stage-gate method applies a step-by-step approach where waiting, reviewing and approving are required before moving to the next step in the project. Agile management emphasizes collaboration, no decision hierarchies, and few people roles for making quick, customer-focused small changes over time to deliver solutions that delight and amaze customers. Agile development has allowed many businesses to respond quickly to changing customer desires and expectations. But moving to continuous delivery is a struggle requiring focused, dedicated teams that are not well suited to the traditional matrix organization where people are resources whose time must be "chopped" into many pieces and shared among many projects. Agile teams meet frequently as often as daily but never waiting more than a week to do so.

Marketing people are externally focused. IT people are internally focused. The first works with customer emotions. The second works to increase efficiency. Big data analytic tools are used by the first and supported by the second. Consultants can be the glue that helps both come together in effective collaborations that deliver positive business outcomes in both global and local markets.
Technology is changing all the time, and the jobs that are associated with technology are changing as well. People that are looking at careers in technology will see some jobs that are being phased out as others increase in popularity. This means that people that are interested in tech jobs should be vigilant in researching those opportunities that are growing in demand.
A Dying Breed of Legacy Systems
The mainframe programmers i.e., COBOL, have been getting phased out for years, and are reaching retirement age. The demand for these skills are at an end of an era as more technology surfaces with needs for app development and cloud migration. These jobs will be phased out and are being replaced with developers that are knowledgeable in more object-oriented programming positions such as
Java
,
C#,
and etc.
Programmers / Analysts
Professionals that work in software development, can find work in a number of different tech careers. People that know how to program, particularly in
object oriented programming
, can expect to be employed and in demand for some time to come. The salaries for programmers range from $50k – millions, depending on the skillsets one has mastered. Like any other profession, one can opt to learn just enough to get by or hone in on a discipline currently in demand and master it, such as data analysts, machine learning analyst and cloud migration specialists.
Tech Support for Portable Devices
The healthcare industry is seeing a rise in jobs in Information Technology because more hospitals are going paperless. There is a great demand for people that have the ability to work with portable devices because this is what many doctors and nurses will be using as they move away from the long paper trail that has been created from patients. People that have the ability to configure and troubleshoot portable devices like tablets and phones are able to support the applications for these devices will be in high demand. In this case, learning programming languages such a
C++
is the perfect route to go in.
Technology Trainers
There will always be a need for someone that can learn, utilize and teach proprietary programs to others. Internal proprietary technology will need to be updated which means that technology trainers are expected to be current in the knowledge base for companies that are utilizing this software. People that are in the training field, will need to stay updated with new technology, grasp new concepts quickly and be able to teach it efficiently. As more companies take hold of proprietary programs, it becomes important for software application trainers to be put in place to teach this technology.
Printer Support Jobs Dwindle
People that are working in the technology field of printer support will need to consider looking at other opportunities because some of these printer support jobs will be phased out. There is a reason for this. More jobs are becoming phased out in the world of printer technology because fewer people are using printers. It has become easier to read the documents and transfer these documents to other workers inside an organization. This means that less money is being spent on printers. Even less money is being spent on printer support. People that have acquired jobs where their primary role is to work in printer repair will see a decline in the number of people that are needed for these types of positions. It becomes a lot less feasible to have printer repair people in place when there is no printer in the office.
Graphic Design
Technology also holds a special place for those that have the experience in graphic design. Websites and social media really engage people in visual art and people that know how to display it on web pages have a plethora of jobs. This leaves this field wide open for those that know about design structures and editing images that can result in eye catching imagery.
Wan/ Lan Management
One big area that offers an array of different jobs is the area of wide and local network router and switch management. People that are proficient in programming switches and building networks can get themselves a number of jobs dealing with the network topology. Tech careers are booming when it comes to this type of field because many people do not have this experience. They may know how to set up computers, but they may not have any idea about what to do if the network connection is no longer working properly.
People that know how to configure switches for networks and troubleshoot these issues with network connectivity will have a wide range of geographical locations that they connect together to build one network for a business.
From Brennan's Blog which is no longer up and running:
I use Remote Desktop all the time to work inside of my development systems hosted by Microsoft Virtual Server. I use the host system to browse the web for documentation and searches as I work and when I need to copy some text from the web browser I find many times the link between the host clipboard and the remote clipboard is broken. In the past I have read that somehow the remote clipboard utility, rdpclip.exe, gets locked and no longer allows the clipboard to be relayed between the host and the client environment. My only way to deal with it was to use the internet clipboard, cl1p.net. I would create my own space and use it to send content between environments. But that is a cumbersome step if you are doing it frequently.
The only way I really knew to fix the clipboard transfer was to close my session and restart it. That meant closing the tools I was using like Visual Studio, Management Studio and the other ancillary processes I have running as I work and then restarting all of it just to restore the clipboard. But today I found a good link on the Terminal Services Blog explaining that what is really happening. The clipboard viewer chain is somehow becoming unresponsive on the local or remote system and events on the clipboards are not being relayed between systems. It is not necessarily a lock being put in place but some sort of failed data transmission. It then goes on to explain the 2 steps you can take to restore the clipboard without restarting your session.
Use Task Manager to kill the rdpclip.exe process
Run rdpclip.exe to restart it
The clipboard communications should be restored. My clipboard is currently working because I just restarted my session to fix it, but I wanted to test these steps. I killed rdpclip.exe and started it and was able to copy/paste from the remote to the host system. The next time my clipboard dies I will have to check to see if these steps truly do work.
I will begin our blog on Java Tutorial with an incredibly important aspect of java development: memory management. The importance of this topic should not be minimized as an application's performance and footprint size are at stake.
From the outset, the Java Virtual Machine (JVM) manages memory via a mechanism known as Garbage Collection (GC). The Garbage collector
Manages the heap memory. All obects are stored on the heap; therefore, all objects are managed. The keyword, new, allocates the requisite memory to instantiate an object and places the newly allocated memory on the heap. This object is marked as live until it is no longer being reference.
Deallocates or reclaims those objects that are no longer being referened.
Traditionally, employs a Mark and Sweep algorithm. In the mark phase, the collector identifies which objects are still alive. The sweep phase identifies objects that are no longer alive.
Deallocates the memory of objects that are not marked as live.
Is automatically run by the JVM and not explicitely called by the Java developer. Unlike languages such as C++, the Java developer has no explict control over memory management.
Does not manage the stack. Local primitive types and local object references are not managed by the GC.
So if the Java developer has no control over memory management, why even worry about the GC? It turns out that memory management is an integral part of an application's performance, all things being equal. The more memory that is required for the application to run, the greater the likelihood that computational efficiency suffers. To that end, the developer has to take into account the amount of memory being allocated when writing code. This translates into the amount of heap memory being consumed.
Memory is split into two types: stack and heap. Stack memory is memory set aside for a thread of execution e.g. a function. When a function is called, a block of memory is reserved for those variables local to the function, provided that they are either a type of Java primitive or an object reference. Upon runtime completion of the function call, the reserved memory block is now available for the next thread of execution. Heap memory, on the otherhand, is dynamically allocated. That is, there is no set pattern for allocating or deallocating this memory. Therefore, keeping track or managing this type of memory is a complicated process. In Java, such memory is allocated when instantiating an object:

String s = new String();  // new operator being employed
String m = "A String";    /* object instantiated by the JVM and then being set to a value.  The JVM
calls the new operator */


Tech Life in Texas
Austin may be considered the live music capital of the world but the field of technology is becoming the new norm in the The Lone Star State. Home to Dell and Compaq computers, there is a reason why central Texas is often referred to as the Silicon Valley of the south. It?s rated third on the charts of the top computer places in the United States with a social learning and training IT atmosphere. Adding the fact that Austin offers fairly inexpensive living costs for students, software developers may take note as they look to relocate.
Documentation is not understanding, process is not discipline, formality is not skill. Jim Highsmith
other Learning Options
Software developers near Temple have ample opportunities to meet like minded techie individuals, collaborate and expend their career choices by participating in Meet-Up Groups. The following is a list of Technology Groups in the area.
| Company Name | City | Industry | Secondary Industry |
| --- | --- | --- | --- |
| Dr Pepper Snapple Group | Plano | Manufacturing | Nonalcoholic Beverages |
| Western Refining, Inc. | El Paso | Energy and Utilities | Gasoline and Oil Refineries |
| Frontier Oil Corporation | Dallas | Manufacturing | Chemicals and Petrochemicals |
| ConocoPhillips | Houston | Energy and Utilities | Gasoline and Oil Refineries |
| Dell Inc | Round Rock | Computers and Electronics | Computers, Parts and Repair |
| Enbridge Energy Partners, L.P. | Houston | Transportation and Storage | Transportation & Storage Other |
| GameStop Corp. | Grapevine | Retail | Retail Other |
| Fluor Corporation | Irving | Business Services | Management Consulting |
| Kimberly-Clark Corporation | Irving | Manufacturing | Paper and Paper Products |
| Exxon Mobil Corporation | Irving | Energy and Utilities | Gasoline and Oil Refineries |
| Plains All American Pipeline, L.P. | Houston | Energy and Utilities | Gasoline and Oil Refineries |
| Cameron International Corporation | Houston | Energy and Utilities | Energy and Utilities Other |
| Celanese Corporation | Irving | Manufacturing | Chemicals and Petrochemicals |
| HollyFrontier Corporation | Dallas | Energy and Utilities | Gasoline and Oil Refineries |
| Kinder Morgan, Inc. | Houston | Energy and Utilities | Gas and Electric Utilities |
| Marathon Oil Corporation | Houston | Energy and Utilities | Gasoline and Oil Refineries |
| United Services Automobile Association | San Antonio | Financial Services | Personal Financial Planning and Private Banking |
| J. C. Penney Company, Inc. | Plano | Retail | Department Stores |
| Energy Transfer Partners, L.P. | Dallas | Energy and Utilities | Energy and Utilities Other |
| Atmos Energy Corporation | Dallas | Energy and Utilities | Alternative Energy Sources |
| National Oilwell Varco Inc. | Houston | Manufacturing | Manufacturing Other |
| Tesoro Corporation | San Antonio | Manufacturing | Chemicals and Petrochemicals |
| Halliburton Company | Houston | Energy and Utilities | Energy and Utilities Other |
| Flowserve Corporation | Irving | Manufacturing | Tools, Hardware and Light Machinery |
| Commercial Metals Company | Irving | Manufacturing | Metals Manufacturing |
| EOG Resources, Inc. | Houston | Energy and Utilities | Gasoline and Oil Refineries |
| Whole Foods Market, Inc. | Austin | Retail | Grocery and Specialty Food Stores |
| Waste Management, Inc. | Houston | Energy and Utilities | Waste Management and Recycling |
| CenterPoint Energy, Inc. | Houston | Energy and Utilities | Gas and Electric Utilities |
| Valero Energy Corporation | San Antonio | Manufacturing | Chemicals and Petrochemicals |
| FMC Technologies, Inc. | Houston | Energy and Utilities | Alternative Energy Sources |
| Calpine Corporation | Houston | Energy and Utilities | Gas and Electric Utilities |
| Texas Instruments Incorporated | Dallas | Computers and Electronics | Semiconductor and Microchip Manufacturing |
| SYSCO Corporation | Houston | Wholesale and Distribution | Grocery and Food Wholesalers |
| BNSF Railway Company | Fort Worth | Transportation and Storage | Freight Hauling (Rail and Truck) |
| Affiliated Computer Services, Incorporated (ACS), a Xerox Company | Dallas | Software and Internet | E-commerce and Internet Businesses |
| Tenet Healthcare Corporation | Dallas | Healthcare, Pharmaceuticals and Biotech | Hospitals |
| XTO Energy Inc. | Fort Worth | Energy and Utilities | Gasoline and Oil Refineries |
| Group 1 Automotive | Houston | Retail | Automobile Dealers |
| ATandT | Dallas | Telecommunications | Telephone Service Providers and Carriers |
| Anadarko Petroleum Corporation | Spring | Energy and Utilities | Gasoline and Oil Refineries |
| Apache Corporation | Houston | Energy and Utilities | Gasoline and Oil Refineries |
| Dean Foods Company | Dallas | Manufacturing | Food and Dairy Product Manufacturing and Packaging |
| American Airlines | Fort Worth | Travel, Recreation and Leisure | Passenger Airlines |
| Baker Hughes Incorporated | Houston | Energy and Utilities | Gasoline and Oil Refineries |
| Continental Airlines, Inc. | Houston | Travel, Recreation and Leisure | Passenger Airlines |
| RadioShack Corporation | Fort Worth | Computers and Electronics | Consumer Electronics, Parts and Repair |
| KBR, Inc. | Houston | Government | International Bodies and Organizations |
| Spectra Energy Partners, L.P. | Houston | Energy and Utilities | Gas and Electric Utilities |
| Energy Future Holdings | Dallas | Energy and Utilities | Energy and Utilities Other |
| Southwest Airlines Corporation | Dallas | Transportation and Storage | Air Couriers and Cargo Services |
training details
locations, tags and why hsg
the hartmann software group advantage
A successful career as a software developer or other IT professional requires a solid understanding of software development processes, design patterns, enterprise application architectures, web services, security, networking and much more. The progression from novice to expert can be a daunting endeavor; this is especially true when traversing the learning curve without expert guidance. A common experience is that too much time and money is wasted on a career plan or application due to misinformation.
The Hartmann Software Group understands these issues and addresses them and others during any training engagement. Although no IT educational institution can guarantee career or application development success, HSG can get you closer to your goals at a far faster rate than self paced learning and, arguably, than the competition. Here are the reasons why we are so successful at teaching:
Learn from the experts.

We have provided software development and other IT related training to many major corporations in Texas since 2002.
Our educators have years of consulting and training experience; moreover, we require each trainer to have cross-discipline expertise i.e. be Java and .NET experts so that you get a broad understanding of how

industry wide

experts work and think.

Discover tips and tricks about Microsoft SQL Server programming
Get your questions answered by easy to follow, organized Microsoft SQL Server experts
Get up to speed with vital Microsoft SQL Server programming tools
Save on travel expenses by learning right from your desk or home office. Enroll in an online instructor led class. Nearly all of our classes are offered in this way.
Prepare to hit the ground running for a new job or a new position
See the big picture and have the instructor fill in the gaps
We teach with sophisticated learning tools and provide excellent supporting course material
Books and course material are provided in advance
Get a book of your choice from the HSG Store as a gift from us when you register for a class
Gain a lot of practical skills in a short amount of time
We teach what we know…software
We care…
learn more
page tags
what brought you to visit us
Temple, Texas Microsoft SQL Server Training , Temple, Texas Microsoft SQL Server Training
Classes
, Temple, Texas Microsoft SQL Server Training
Courses
, Temple, Texas Microsoft SQL Server Training
Course
, Temple, Texas Microsoft SQL Server Training
Seminar
training locations
Texas cities where we offer Microsoft SQL Server Training Classes