Design Patterns Training Classes in Sanford, Florida
Learn Design Patterns in Sanford, Florida and surrounding areas via our hands-on, expert led courses. All of our classes either are offered on an onsite, online or public instructor led basis. Here is a list of our current Design Patterns related training offerings in Sanford, Florida: Design Patterns Training
Design Patterns Training Catalog
cost: $ 1750
length: 3 day(s)
cost: $ 1690
length: 4 day(s)
cost: $ 790
length: 2 day(s)
Course Directory
[training on all levels]
Technical Training Courses
Software engineer/architect, System Admin ... Welcome!
Business Training Courses
Project Managers, Business Analysts, Paralegals ... Welcome!
Upcoming Classes
Gain insight and ideas from students with different perspectives and experiences.
Blog Entries
publications that: entertain, make you think, offer insight
I've been a technical recruiter for several years, let's just say a long time. I'll never forget how my first deal went bad and the lesson I learned from that experience. I was new to recruiting but had been a very good sales person in my previous position. I was about to place my first contractor on an assignment. I thought everything was fine. I nurtured and guided my candidate through the interview process with constant communication throughout. The candidate was very responsive throughout the process. From my initial contact with him, to the phone interview all went well and now he was completing his onsite interview with the hiring manager.
Shortly thereafter, I received the call from the hiring manager that my candidate was the chosen one for the contract position, I was thrilled. All my hard work had paid off. I was going to be a success at this new game! The entire office was thrilled for me, including my co-workers and my bosses. I made a good win-win deal. It was good pay for my candidate and a good margin for my recruiting firm. Everyone was happy.
I left a voicemail message for my candidate so I could deliver the good news. He had agreed to call me immediately after the interview so I could get his assessment of how well it went. Although, I heard from the hiring manager, there was no word from him. While waiting for his call back, I received a call from a Mercedes dealership to verify his employment for a car he was trying to lease. Technically he wasn't working for us as he had not signed the contract yet…. nor, had he discussed this topic with me. I told the Mercedes office that I would get back to them. Still not having heard back from the candidate, I left him another message and mentioned the call I just received. Eventually he called back. He wanted more money.
I told him that would be impossible as he and I had previously agreed on his hourly rate and it was fine with him. I asked him what had changed since that agreement. He said he made had made much more money in doing the same thing when he lived in California. I reminded him this is a less costly marketplace than where he was living in California. I told him if he signed the deal I would be able to call the car dealership back and confirm that he was employed with us. He agreed to sign the deal.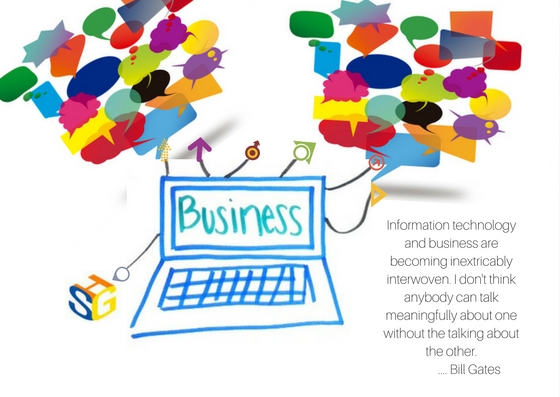 Information Technology (IT) tools are here to support your business in the global market. Effective communication is key for IT and business experts to collaborate effectively in search of solutions. Consulting, reaching out for help to a third-party, can bridge the gap between your business marketing experts and IT operations experts, especially with the emergence of big data analytics and its implication on the global market. Having the right consultants equipped with business knowledge and data technology expertise can make a difference.

Your marketing organization is probably familiar with digital tools and conducting global research. Its results can uncover the journey customers take to purchase your products or use your services. It can highlight the pain points and frictions that prevent their experiences with you to be delightful and amazing. Armed with this knowledge and beautiful compelling presentations, marketing executives expect that IT operations leaders will translate these insights into actions.

But people in IT operations are too involved in meeting key performance indicators that have nothing to do with the end customers. Meeting requirements of faster and cheaper don't translate very well into customer satisfaction. A classic breakdown in communication is described in a Harvard Business Review article, "A Technique to Bridge the Gap Between Marketing and IT." The author goes on to describe how a new CIO at a bank found IT to be focused on the internal organization as their customers, rather than the real end customer. Moreover, no one was looking at the incident reports which clearly showed that incidents were increasing. And nobody looked at what these incidents were doing to the bank's customers. The startling and scary numbers of incidents were caught and addressed and brought down from 1,000 to 600 or (40%) and later to 450 per week.
Surprisingly, these type of seemingly isolated scenarios are still being discovered within organizations presently, sometimes internally, and through third party insights such as consultants. By engaging consultants to provide a perspective based on what they've experienced before, they can often bring new and innovative ideas or possible challenges to the table that an internal processes probably wouldn't have been able to see on their own. Often, third party input can help to provide the translation needed to go from marketing research results into actions that IT operations can understand and make sense in their high-performance culture. When companies understand and use this knowledge to reassess how to improve their customer experiences, they work backward from what customers want to achieve significantly higher improvements.

IT and business management are more and more being asked to move away from their traditional roles, such as IT being the "technology infrastructure gatekeeper", and instead become enablers across the enterprise of effective collaboration, big data consumers, and key players in driving desired business outcomes. Marketing leaders look to technology as a way to facilitate the customer's journey and his positive experience of it, bring more clients, and meet increasingly higher loyalty goals. They rely on IT projects to enable big data-based behavioral targeting anywhere in the global market. This means projects to analyze search engine results, improve website personalization and optimization, and building of mobile applications for a more personal experience. All these are projects that consultants with their communication, consulting and technical expertise are well prepared to help in order to bridge the expectation gap between IT and other business organizations.

In order to meet these 21st-century business challenges, Information Technology organizations have been transitioning from waterfall stage-gate project management approaches to agile development. The stage-gate method applies a step-by-step approach where waiting, reviewing and approving are required before moving to the next step in the project. Agile management emphasizes collaboration, no decision hierarchies, and few people roles for making quick, customer-focused small changes over time to deliver solutions that delight and amaze customers. Agile development has allowed many businesses to respond quickly to changing customer desires and expectations. But moving to continuous delivery is a struggle requiring focused, dedicated teams that are not well suited to the traditional matrix organization where people are resources whose time must be "chopped" into many pieces and shared among many projects. Agile teams meet frequently as often as daily but never waiting more than a week to do so.

Marketing people are externally focused. IT people are internally focused. The first works with customer emotions. The second works to increase efficiency. Big data analytic tools are used by the first and supported by the second. Consultants can be the glue that helps both come together in effective collaborations that deliver positive business outcomes in both global and local markets.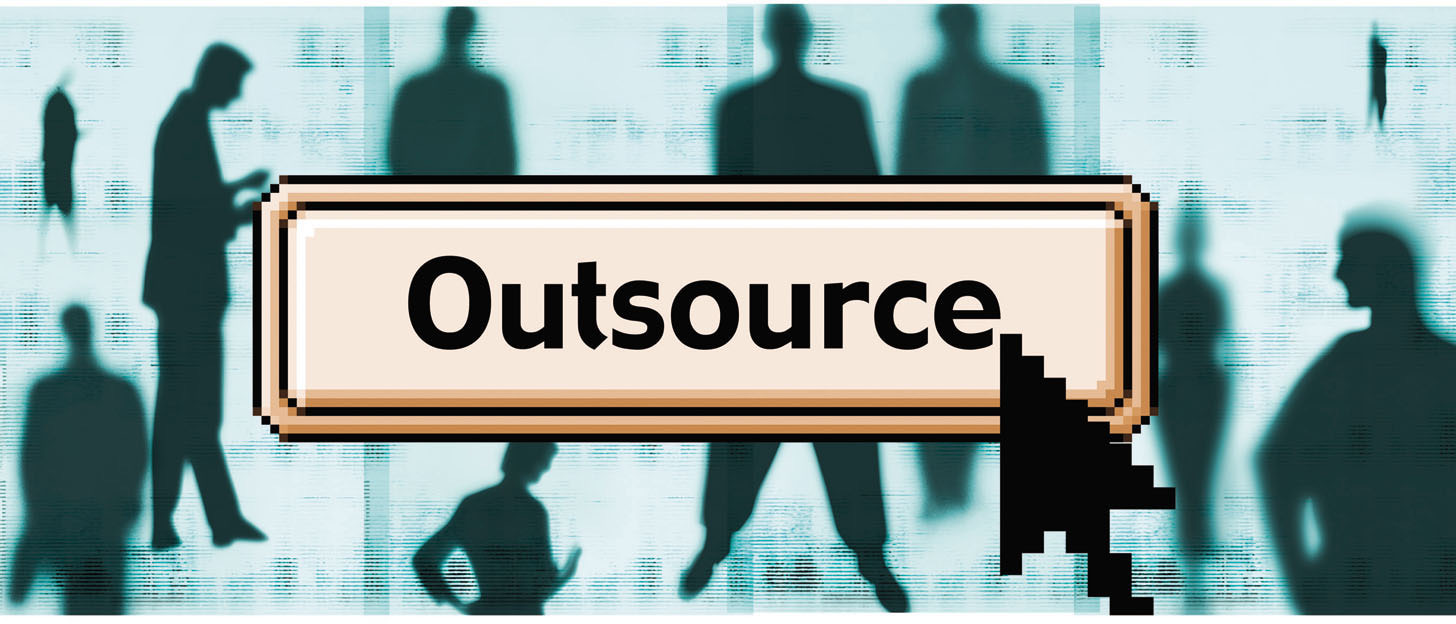 Outsourcing IT needs in the corporate world has become extremely popular because it is cost-efficient and it gives IT resources to companies that may not otherwise be able to afford them. Another positive side effect of IT outsourcing is that it has brought many technology jobs back to the United States.

As convenient and patriotic as IT outsourcing has become, it also have several limitations that have caused many companies to re-think the idea of funding their own internal IT group. It is important for a company to be completely familiar with these limitations before developing any kind of company policy in regards to IT.

The Customer Could Outgrow The Outsource Company

When an IT outsourcing company first takes on a new client, the relationship is beneficial to both sides. But things can start to get inconvenient for the client when the client's business starts to outgrow the capabilities of the IT outsource group.

An IT outsourcing company can become entrenched in the daily routine of its clients, which is great at first. But when the IT company can no longer keep pace with the growth of its clients, then the clients are stuck trying to find a new solution and keep track of its own IT assets at the same time.

The IT Outsourcing Company Lacks The Necessary Technical Expertise

IT outsourcing clients like to believe that their support company knows everything there is to know about computers and the Internet. But every IT support company has its areas of expertise and they have the technical areas where they are not quite as strong. If the client starts to experience needs from the areas where the IT outsourcing company is not so strong, then that can become a significant business issue.

This problem can be amplified if the client is a small business experiencing growth. An IT outsourcing company is not as likely to bring on new personnel for a smaller client, which leaves the client without a solution.

The Client Losses A Measure Of Control Over Its Data

No matter how large or successful an IT outsourcing company may be, there will always be the limitation of client security and the protection of critical customer data. All it takes is one rogue employee of the IT outsourcing company to compromise all of the client's critical data.

Some IT outsourcing companies have safeguards put in place to try and prevent client data compromise, but those safeguards are limited by how much access the IT company has to the client network. In most cases, that access has to be comprehensive for the IT outsourcing company to be able to do its job.

Outsourcing IT responsibilities can take a lot of stress off of a client and allow that client to operate his business by focusing on his core competencies. But there are limitations to IT outsourcing that could make it necessary for a client to do his own IT support and pay the extra costs.
The name placard in your cube might not say anything about sales, but the truth is that everyone, employed as such or not, is a salesperson at some point every single day. In the traditional sense, this could mean something like pitching your company's solutions to a client. In the less-traditional sense, it could mean convincing your child to eat their vegetables. Yet for those two drastically different examples and everything in between, there is a constant for successful sellers: unveiling the "Why."
Spending time and energy making prospects understand why you do what you do instead of exactly what it is you do or how you do it is not a new concept. But I'm a firm believer that proven concepts, no matter how old and frequently referenced they are, can't be repeated enough. This idea has recently and fervently been popularized by marketer, author, and thinker extraordinaire Simon Sinek via his 2009 book, Start With Why. You can learn about him here on Wikipedia or here on his site. To begin, let me suggest that you watch Sinek's TED talk on Starting With Why here on YouTube before reading any further. I'll let him take care of the bulk of explaining the basics, and then will offer some ideas of my own to back this up in the real world and explore the best ways to start thinking this way and apply it to your business.
First, a little on me. After all, if I were to practice what Sinek preaches, it would follow that I explain why it is I'm writing this piece so that you, the reader, not only have a good reason to pay attention but also understand what drives me on a deeper level. So, who am I? I'm an entrepreneur in the music space. I do freelance work in the realms of copywriting, business development, and marketing for artists and industry / music-tech folks, but my main project is doing all of the above for a project I've been on the team for since day one called Presskit.to. In short, Presskit.to builds digital portfolios that artists of all kinds can use to represent themselves professionally when pitching their projects to gatekeepers like label reps, casting directors, managers, the press, etc. This core technology is also applicable to larger entertainment industry businesses and fine arts education institutions in enterprise formats, and solves a variety of the problems they're facing.
Not interesting? I don't blame you for thinking so, if you did. That's because I just gave you a bland overview of what we do, instead of why we do it. What if, instead, I told you that myself and everyone I work with is an artist of some sort and believes that the most important thing you can do in life is create; that our technology exists to make creators' careers more easily sustainable. Or, another approach, that we think the world is a better place when artists can make more art, and that because our technology was built to help artists win more business, we're trying our best to do our part. Only you can be the judge, but I think that sort of pitch is more compelling. It touches on the emotions responsible for decision making that Sinek outlines in his Ted Talk, rather than the practical language-based reasons like pricing, technicalities, how everything works to accomplish given goals, etc. These things are on the outside of the golden circle Sinek shows us for a reason – they only really matter if you've aligned your beliefs with a client's first. Otherwise these kind of tidbits are gobbledygook, and mind-numbingly boring gobbledygook at that.
Tech Life in Florida
Software developers in Florida, have reasonably great opportunities for development positions in Fortune 1000 companies scattered throughout the state. In town and in reach, Floridians have access to corporate headquarters for Citrix Systems, Tech Data Corporation, the SFN Group, and the Harris Corporation just to name a few.
I am a pessimist by nature. Many people can only keep on fighting when they expect to win. I'm not like that, I always expect to lose. I fight anyway, and sometimes I win.Richard Stallman, founder of the free Software movement
other Learning Options
Software developers near Sanford have ample opportunities to meet like minded techie individuals, collaborate and expend their career choices by participating in Meet-Up Groups. The following is a list of Technology Groups in the area.
| Company Name | City | Industry | Secondary Industry |
| --- | --- | --- | --- |
| Lender Processing Services, Inc. (LPS) | Jacksonville | Software and Internet | Data Analytics, Management and Storage |
| World Fuel Services Corporation | Miami | Energy and Utilities | Gasoline and Oil Refineries |
| SEACOR Holdings Inc. | Fort Lauderdale | Transportation and Storage | Marine and Inland Shipping |
| MasTec, Inc. | Miami | Business Services | Security Services |
| Health Management Associates, Inc. | Naples | Healthcare, Pharmaceuticals and Biotech | Hospitals |
| B/E Aerospace, Inc. | Wellington | Manufacturing | Aerospace and Defense |
| Roper Industries, Inc. | Sarasota | Manufacturing | Manufacturing Other |
| AutoNation | Fort Lauderdale | Retail | Automobile Dealers |
| Watsco, Inc. | Miami | Wholesale and Distribution | Wholesale and Distribution Other |
| SFN Group | Fort Lauderdale | Business Services | HR and Recruiting Services |
| Tupperware Corporation | Orlando | Manufacturing | Plastics and Rubber Manufacturing |
| AirTran Holdings, Inc. | Orlando | Travel, Recreation and Leisure | Passenger Airlines |
| WellCare Health Plans, Inc. | Tampa | Healthcare, Pharmaceuticals and Biotech | Healthcare, Pharmaceuticals, and Biotech Other |
| Lennar Corporation | Miami | Real Estate and Construction | Real Estate Agents and Appraisers |
| HSN, Inc. | Saint Petersburg | Retail | Retail Other |
| Certegy | Saint Petersburg | Business Services | Business Services Other |
| Raymond James Financial, Inc. | Saint Petersburg | Financial Services | Trust, Fiduciary, and Custody Activities |
| Winn-Dixie Stores, Inc. | Jacksonville | Retail | Grocery and Specialty Food Stores |
| Jabil Circuit, Inc. | Saint Petersburg | Computers and Electronics | Semiconductor and Microchip Manufacturing |
| CSX Corporation | Jacksonville | Transportation and Storage | Freight Hauling (Rail and Truck) |
| Fidelity National Financial, Inc. | Jacksonville | Financial Services | Insurance and Risk Management |
| Tech Data Corporation | Clearwater | Consumer Services | Automotive Repair & Maintenance |
| TECO Energy, Inc. | Tampa | Manufacturing | Chemicals and Petrochemicals |
| Lincare Holdings Inc | Clearwater | Healthcare, Pharmaceuticals and Biotech | Medical Supplies and Equipment |
| Chico's FAS Inc. | Fort Myers | Retail | Clothing and Shoes Stores |
| Burger King Corporation LLC | Miami | Retail | Restaurants and Bars |
| Publix Super Markets, Inc. | Lakeland | Retail | Grocery and Specialty Food Stores |
| Florida Power and Light Company | Juno Beach | Energy and Utilities | Gas and Electric Utilities |
| Ryder System, Inc. | Miami | Transportation and Storage | Freight Hauling (Rail and Truck) |
| Citrix Systems, Inc. | Fort Lauderdale | Software and Internet | Software and Internet Other |
| Harris Corporation | Melbourne | Telecommunications | Wireless and Mobile |
| Office Depot, Inc. | Boca Raton | Computers and Electronics | Audio, Video and Photography |
| Landstar System, Inc. | Jacksonville | Transportation and Storage | Freight Hauling (Rail and Truck) |
| Darden Restaurants, Inc. | Orlando | Retail | Restaurants and Bars |
| PSS World Medical, Inc. | Jacksonville | Healthcare, Pharmaceuticals and Biotech | Medical Supplies and Equipment |
training details
locations, tags and why hsg
the hartmann software group advantage
A successful career as a software developer or other IT professional requires a solid understanding of software development processes, design patterns, enterprise application architectures, web services, security, networking and much more. The progression from novice to expert can be a daunting endeavor; this is especially true when traversing the learning curve without expert guidance. A common experience is that too much time and money is wasted on a career plan or application due to misinformation.
The Hartmann Software Group understands these issues and addresses them and others during any training engagement. Although no IT educational institution can guarantee career or application development success, HSG can get you closer to your goals at a far faster rate than self paced learning and, arguably, than the competition. Here are the reasons why we are so successful at teaching:
Learn from the experts.

We have provided software development and other IT related training to many major corporations in Florida since 2002.
Our educators have years of consulting and training experience; moreover, we require each trainer to have cross-discipline expertise i.e. be Java and .NET experts so that you get a broad understanding of how

industry wide

experts work and think.

Discover tips and tricks about Design Patterns programming
Get your questions answered by easy to follow, organized Design Patterns experts
Get up to speed with vital Design Patterns programming tools
Save on travel expenses by learning right from your desk or home office. Enroll in an online instructor led class. Nearly all of our classes are offered in this way.
Prepare to hit the ground running for a new job or a new position
See the big picture and have the instructor fill in the gaps
We teach with sophisticated learning tools and provide excellent supporting course material
Books and course material are provided in advance
Get a book of your choice from the HSG Store as a gift from us when you register for a class
Gain a lot of practical skills in a short amount of time
We teach what we know…software
We care…
learn more
page tags
what brought you to visit us
Sanford, Florida Design Patterns Training , Sanford, Florida Design Patterns Training
Classes
, Sanford, Florida Design Patterns Training
Courses
, Sanford, Florida Design Patterns Training
Course
, Sanford, Florida Design Patterns Training
Seminar
training locations
Florida cities where we offer Design Patterns Training Classes