Microsoft SQL Server Training Classes in Detroit, Michigan
Learn Microsoft SQL Server in Detroit, Michigan and surrounding areas via our hands-on, expert led courses. All of our classes either are offered on an onsite, online or public instructor led basis. Here is a list of our current Microsoft SQL Server related training offerings in Detroit, Michigan: Microsoft SQL Server Training
Microsoft SQL Server Training Catalog
Course Directory
[training on all levels]
Technical Training Courses
Software engineer/architect, System Admin ... Welcome!
Business Training Courses
Project Managers, Business Analysts, Paralegals ... Welcome!
Upcoming Classes
Gain insight and ideas from students with different perspectives and experiences.
Blog Entries
publications that: entertain, make you think, offer insight
With an ever increasing rise in the use of employment testing, certification testing and need to get a degree, I thought I would write this basic guide on how to study for exams. Although it was originally written with the college student in mind, the fundamentals still apply to all of us in the workforce.
There are few things that strike terror into the hearts of students more than exam day, particularly if they have inadequate study skills. Perhaps these students study for hours and hours, only to discover that by exam time they've forgotten everything they've read. Below are a few study tips to help struggling students remember the information they've reviewed for their exams.

-Use memory tricks. There are a number of memory tricks that you can use to help you remember large amounts of information. For example, the use of acronyms (such as Roy G Biv to remember the colors of the rainbow) can be very helpful. In addition, you can use visualization techniques, similes, and songs to assist you in recalling your study material.

-Don't cram. Your brain requires time to absorb facts. If you know about a test in advance, start studying right away for a little bit every day, ramping up your efforts as the exam approaches.

-Take frequent breaks while studying. It may seem counter-intuitive that spending less time studying might actually help you remember more of what you've read. But taking appropriately timed study breaks will keep your mind fresh and make sure you don't stress too much.

-Write it out. For many people, writing information down as they read it is the best way to learn it. Don't just write exactly what you read, however; by rewording the information or even drawing a picture or diagram you commit it to your memory in more than one way, allowing you to remember it easier later.

-Teach it to a friend. To remember information, you have to understand it. And in order to teach information, you need to understand it as well. Nothing tests your ability to recall facts better than teaching them to another person. Find a friend unfamiliar with your study material and teach them a lesson in the subject.

-Get plenty of sleep the night before the exam. Finally, be sure to get a good night's rest the night before you take the exam. Falling asleep at your desk will accomplish nothing. This will help you be more alert while you are taking your test, and will allow you to retain more information.


I've been a technical recruiter for several years, let's just say a long time. I'll never forget how my first deal went bad and the lesson I learned from that experience. I was new to recruiting but had been a very good sales person in my previous position. I was about to place my first contractor on an assignment. I thought everything was fine. I nurtured and guided my candidate through the interview process with constant communication throughout. The candidate was very responsive throughout the process. From my initial contact with him, to the phone interview all went well and now he was completing his onsite interview with the hiring manager.
Shortly thereafter, I received the call from the hiring manager that my candidate was the chosen one for the contract position, I was thrilled. All my hard work had paid off. I was going to be a success at this new game! The entire office was thrilled for me, including my co-workers and my bosses. I made a good win-win deal. It was good pay for my candidate and a good margin for my recruiting firm. Everyone was happy.
I left a voicemail message for my candidate so I could deliver the good news. He had agreed to call me immediately after the interview so I could get his assessment of how well it went. Although, I heard from the hiring manager, there was no word from him. While waiting for his call back, I received a call from a Mercedes dealership to verify his employment for a car he was trying to lease. Technically he wasn't working for us as he had not signed the contract yet…. nor, had he discussed this topic with me. I told the Mercedes office that I would get back to them. Still not having heard back from the candidate, I left him another message and mentioned the call I just received. Eventually he called back. He wanted more money.
I told him that would be impossible as he and I had previously agreed on his hourly rate and it was fine with him. I asked him what had changed since that agreement. He said he made had made much more money in doing the same thing when he lived in California. I reminded him this is a less costly marketplace than where he was living in California. I told him if he signed the deal I would be able to call the car dealership back and confirm that he was employed with us. He agreed to sign the deal.
The original article was posted by Michael Veksler on Quora
A very well known fact is that code is written once, but it is read many times. This means that a good developer, in any language, writes understandable code. Writing understandable code is not always easy, and takes practice. The difficult part, is that you read what you have just written and it makes perfect sense to you, but a year later you curse the idiot who wrote that code, without realizing it was you.
The best way to learn how to write readable code, is to collaborate with others. Other people will spot badly written code, faster than the author. There are plenty of open source projects, which you can start working on and learn from more experienced programmers.
Readability is a tricky thing, and involves several aspects:
Never surprise the reader of your code, even if it will be you a year from now. For example, don't call a function max() when sometimes it returns the minimum().
Be consistent, and use the same conventions throughout your code. Not only the same naming conventions, and the same indentation, but also the same semantics. If, for example, most of your functions return a negative value for failure and a positive for success, then avoid writing functions that return false on failure.
Write short functions, so that they fit your screen. I hate strict rules, since there are always exceptions, but from my experience you can almost always write functions short enough to fit your screen. Throughout my carrier I had only a few cases when writing short function was either impossible, or resulted in much worse code.
Use descriptive names, unless this is one of those standard names, such as i or it in a loop. Don't make the name too long, on one hand, but don't make it cryptic on the other.
Define function names by what they do, not by what they are used for or how they are implemented. If you name functions by what they do, then code will be much more readable, and much more reusable.
Avoid global state as much as you can. Global variables, and sometimes attributes in an object, are difficult to reason about. It is difficult to understand why such global state changes, when it does, and requires a lot of debugging.
As Donald Knuth wrote in one of his papers: "Early optimization is the root of all evil". Meaning, write for readability first, optimize later.
The opposite of the previous rule: if you have an alternative which has similar readability, but lower complexity, use it. Also, if you have a polynomial alternative to your exponential algorithm (when N > 10), you should use that.
Use standard library whenever it makes your code shorter; don't implement everything yourself. External libraries are more problematic, and are both good and bad. With external libraries, such as boost, you can save a lot of work. You should really learn boost, with the added benefit that the c++ standard gets more and more form boost. The negative with boost is that it changes over time, and code that works today may break tomorrow. Also, if you try to combine a third-party library, which uses a specific version of boost, it may break with your current version of boost. This does not happen often, but it may.
Don't blindly use C++ standard library without understanding what it does - learn it. You look at std::vector::push_back() documentation at it tells you that its complexity is O(1), amortized. What does that mean? How does it work? What are benefits and what are the costs? Same with std::map, and with std::unordered_map. Knowing the difference between these two maps, you'd know when to use each one of them.
Never call new or delete directly, use std::make_unique and [cost c++]std::make_shared[/code] instead. Try to implement usique_ptr, shared_ptr, weak_ptr yourself, in order to understand what they actually do. People do dumb things with these types, since they don't understand what these pointers are.
Every time you look at a new class or function, in boost or in std, ask yourself "why is it done this way and not another?". It will help you understand trade-offs in software development, and will help you use the right tool for your job. Don't be afraid to peek into the source of boost and the std, and try to understand how it works. It will not be easy, at first, but you will learn a lot.
Know what complexity is, and how to calculate it. Avoid exponential and cubic complexity, unless you know your N is very low, and will always stay low.
Learn data-structures and algorithms, and know them. Many people think that it is simply a wasted time, since all data-structures are implemented in standard libraries, but this is not as simple as that. By understanding data-structures, you'd find it easier to pick the right library. Also, believe it or now, after 25 years since I learned data-structures, I still use this knowledge. Half a year ago I had to implemented a hash table, since I needed fast serialization capability which the available libraries did not provide. Now I am writing some sort of interval-btree, since using std::map, for the same purpose, turned up to be very very slow, and the performance bottleneck of my code.
Notice that you can't just find interval-btree on Wikipedia, or stack-overflow. The closest thing you can find is Interval tree, but it has some performance drawbacks. So how can you implement an interval-btree, unless you know what a btree is and what an interval-tree is? I strongly suggest, again, that you learn and remember data-structures.
These are the most important things, which will make you a better programmer. The other things will follow.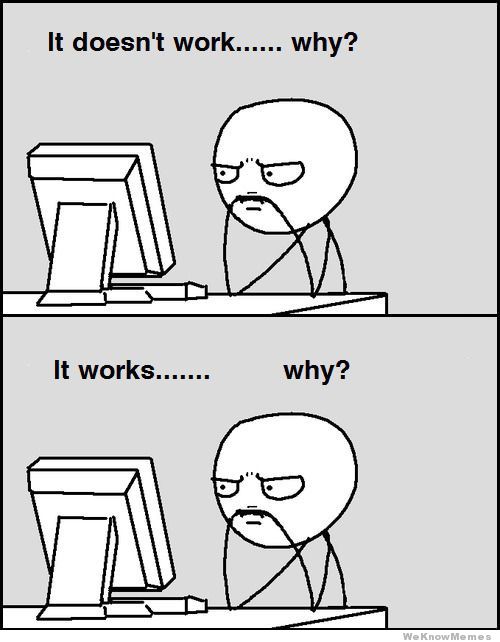 For many people, one of the most exciting and challenging career choices is computer programming. There are several ways that people can enter the computer programming profession; however, the most popular method has traditionally been the educational route through an educational institution of higher learning such as a college or technical school.

Even though many people think of computer programmers as individuals with a technical background, some programmers enter the computer programming profession without a structured technical background. In addition, after further investigation several interesting facts are uncovered when a profile of the best computer programmers is analyzed.

When observing how the top programmers in the profession work, there are four characteristics that tend to separate the top programmers from the average programmers. These four characteristics are:

1.Creativity.
2.Attention To Detail.
3.Learns New Things Quickly.
4.Works Well With Others.

Creativity.

Being a top computer programmer requires a combination of several unique qualities. One of these qualities is creativity. In its very essence, computer programming is about creating programs to accomplish specific tasks in the most efficient manner. The ability to develop computer code to accomplish tasks takes a certain level of creativity. The top computer programmers tend to have a great deal of creativity, and they have the desire to try things in a variety of ways to produce the best results for a particular situation.

Attention To Detail.

While creativity is important for top programmers an almost opposite quality is needed to produce great computer programs on a consistent basis, this quality is attention to detail. The very nature of computer programming requires the need to enter thousands of lines of computer programming code. What separates many top programmers from average programmers is the ability to enter these lines of code with a minimum amount of errors and just as importantly test the code to catch any unseen errors. Top computer programmers have the necessary attention to detail to successfully create and enter the necessary computer code project after project.

Learns New Things Quickly.

The technology field is constantly changing. Almost daily new technology innovations are being developed that require computer programmers to learn new technology or enhancements to current technology on a regular basis. The top computer programmers are able to learn new technology or enhancements quickly, and then they are able to apply what has been learned to their current and future programming projects in a seamless manner.

Works Well With Others.

There are several differences between top computer programmers and other programmers. However, one of the biggest differences is the ability to work well with others. By its very nature, computer programming requires programmers to spend a lot of time alone developing computer code, but the top computer programmers are able to excel at this aspect of computer programming along with being able to work well with other people.

Regarding computer programmers, the top programmers approach and handle their jobs differently than other programmers, and these differences set them apart from the other programmers. For any average programmers who have the desire to excel as a computer programmer, they must understand and embrace the characteristics of top programmers.
Related:
How important is it to exercise for people in technology that sit for hours on end?
What are a few unique pieces of career advice that nobody ever mentions?
Tech Life in Michigan
Home of the Ford Motor Company and many other Fortune 500 and Fortune 1000 Companies, Michigan has a list of famous people that have made their mark on society. Famous Michiganians: Francis Ford Coppola film director; Henry Ford industrialist, Earvin Magic Johnson basketball player; Charles A. Lindbergh aviator; Madonna singer; Stevie Wonder singer; John T. Parsons inventor and William R. Hewlett inventor.
Pasting code from the internet into production code is like chewing gum found in the street. Mike Johnson
other Learning Options
Software developers near Detroit have ample opportunities to meet like minded techie individuals, collaborate and expend their career choices by participating in Meet-Up Groups. The following is a list of Technology Groups in the area.
| Company Name | City | Industry | Secondary Industry |
| --- | --- | --- | --- |
| Lear Corporation | Southfield | Manufacturing | Automobiles, Boats and Motor Vehicles |
| TRW Automotive Holdings Corp. | Livonia | Manufacturing | Automobiles, Boats and Motor Vehicles |
| Spartan Stores, Inc. | Byron Center | Retail | Grocery and Specialty Food Stores |
| Steelcase Inc. | Grand Rapids | Manufacturing | Furniture Manufacturing |
| Valassis Communications, Inc. | Livonia | Business Services | Advertising, Marketing and PR |
| Autoliv, Inc. | Auburn Hills | Manufacturing | Automobiles, Boats and Motor Vehicles |
| Cooper-Standard Automotive Group | Novi | Manufacturing | Automobiles, Boats and Motor Vehicles |
| Penske Automotive Group, Inc. | Bloomfield Hills | Retail | Automobile Dealers |
| Con-Way Inc. | Ann Arbor | Transportation and Storage | Freight Hauling (Rail and Truck) |
| Meritor, Inc. | Troy | Manufacturing | Automobiles, Boats and Motor Vehicles |
| Visteon Corporation | Van Buren Twp | Manufacturing | Automobiles, Boats and Motor Vehicles |
| Affinia Group, Inc. | Ann Arbor | Manufacturing | Automobiles, Boats and Motor Vehicles |
| Perrigo Company | Allegan | Healthcare, Pharmaceuticals and Biotech | Pharmaceuticals |
| BorgWarner Inc. | Auburn Hills | Manufacturing | Automobiles, Boats and Motor Vehicles |
| Auto-Owners Insurance | Lansing | Financial Services | Insurance and Risk Management |
| DTE Energy Company | Detroit | Energy and Utilities | Gas and Electric Utilities |
| Whirlpool Corporation | Benton Harbor | Manufacturing | Tools, Hardware and Light Machinery |
| Herman Miller, Inc. | Zeeland | Manufacturing | Furniture Manufacturing |
| Universal Forest Products | Grand Rapids | Manufacturing | Furniture Manufacturing |
| Masco Corporation Inc. | Taylor | Manufacturing | Concrete, Glass, and Building Materials |
| PULTEGROUP, INC. | Bloomfield Hills | Real Estate and Construction | Real Estate & Construction Other |
| CMS Energy Corporation | Jackson | Energy and Utilities | Energy and Utilities Other |
| Stryker Corporation | Portage | Healthcare, Pharmaceuticals and Biotech | Medical Devices |
| General Motors Company (GM) | Detroit | Manufacturing | Automobiles, Boats and Motor Vehicles |
| Kellogg Company | Battle Creek | Manufacturing | Food and Dairy Product Manufacturing and Packaging |
| The Dow Chemical Company | Midland | Manufacturing | Chemicals and Petrochemicals |
| Kelly Services, Inc. | Troy | Business Services | HR and Recruiting Services |
| Ford Motor Company | Dearborn | Manufacturing | Automobiles, Boats and Motor Vehicles |
training details
locations, tags and why hsg
the hartmann software group advantage
A successful career as a software developer or other IT professional requires a solid understanding of software development processes, design patterns, enterprise application architectures, web services, security, networking and much more. The progression from novice to expert can be a daunting endeavor; this is especially true when traversing the learning curve without expert guidance. A common experience is that too much time and money is wasted on a career plan or application due to misinformation.
The Hartmann Software Group understands these issues and addresses them and others during any training engagement. Although no IT educational institution can guarantee career or application development success, HSG can get you closer to your goals at a far faster rate than self paced learning and, arguably, than the competition. Here are the reasons why we are so successful at teaching:
Learn from the experts.

We have provided software development and other IT related training to many major corporations in Michigan since 2002.
Our educators have years of consulting and training experience; moreover, we require each trainer to have cross-discipline expertise i.e. be Java and .NET experts so that you get a broad understanding of how

industry wide

experts work and think.

Discover tips and tricks about Microsoft SQL Server programming
Get your questions answered by easy to follow, organized Microsoft SQL Server experts
Get up to speed with vital Microsoft SQL Server programming tools
Save on travel expenses by learning right from your desk or home office. Enroll in an online instructor led class. Nearly all of our classes are offered in this way.
Prepare to hit the ground running for a new job or a new position
See the big picture and have the instructor fill in the gaps
We teach with sophisticated learning tools and provide excellent supporting course material
Books and course material are provided in advance
Get a book of your choice from the HSG Store as a gift from us when you register for a class
Gain a lot of practical skills in a short amount of time
We teach what we know…software
We care…
learn more
page tags
what brought you to visit us
Detroit, Michigan Microsoft SQL Server Training , Detroit, Michigan Microsoft SQL Server Training
Classes
, Detroit, Michigan Microsoft SQL Server Training
Courses
, Detroit, Michigan Microsoft SQL Server Training
Course
, Detroit, Michigan Microsoft SQL Server Training
Seminar
training locations
Michigan cities where we offer Microsoft SQL Server Training Classes